Seychelles Resorts




Championship Golf Courses - visitors most welcome




Banyan Tree - Seychelles

Undoubtably Mahe's finest hotel

Rooms - 36 air-conditioned villas with ceiling fan, king-sized bed, bath,shower his/hers dressing area sundeck, pavilion, mini bar, tea/coffee making facilities, hairdryer, TV. and private swimming pool.

Hillside Villas - 2.6m x 6m.

Beach Villas - 4m x 8m. Beach Villas are mores spacious and also have a private open air jacuzzi.

One Presidential Suite - Two bedrooms

Facilities - Two restaurants, Bar, Swimming Pool and pool bar, Health Club/Gym, Spa.

Code Dress - smart casual, gentlemen should wear long trousers and a collard shirt in the evening.

Honeymoon Specials - Valid all year round.

Meal Plan - Bed & Breakfast

Transfer Times - Approx 35 mins.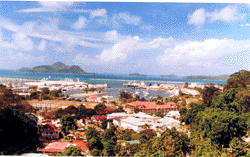 Mahe - Victoria the tiny capital

Mahe - Seychelles, is the largest island in the archipelago, 27 kms long and 12 kms at it's widest, the economic centre and seat of government with it's 85% of the population. The island is spectacular with its huge mountains and lush green tropical vegetation rising to some 905 metres at it's highest.

All visitors have to land at Mahe, where the Seychelles International Airport and Victoria the tiny capital can be found. The best way to explore Victoria is simply to just wander around.

Roads are quite good, driving is on the left but take care of the hair-pin bends, especially at night. A drive over the island will afford some spectacular views and one is never too far away from a deserted white sandy beach, but remember to take water, sun lotion and towels with you.

As a member of the famous Banyan Tree Resorts of Asia, there is an element of Asian style and serenity throughout the resort. This is particularly
noticeable in The Banyan Tree Spa where you can pamper yourself with a wide variety of therapeutic treatments and soothing messages.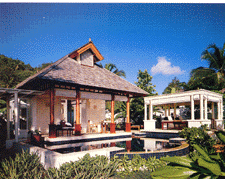 Beach Villas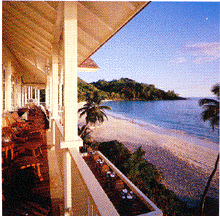 Main House verandah and beach

Banyan Tree Seychelles occupies an area of 177 hectares 0verlooking Anse Intendance on the south west coat. Banyan Tree is certainly the first new breed of luxury hotels on Mahe. Opened in 2002
it is already revered as Mahe's finest.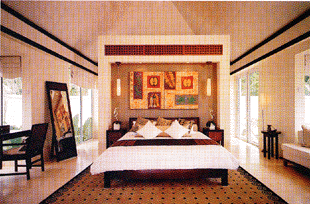 Beach Villa

The resort comprises of 36 luxurious furnished and equipped villas either close to the beach or on the hillside with spectacular views of the ocean. Each spacious villa has it's own private swimming pool and sundeck and Beach Villas also have a private Jacuzzi.

Our Opinion
The Banyan Tree has a tint of Asia within the paradise island setting, that belongs to the
Indian Ocean, together they blend perfectly
to make for a most enjoyable
exotic holiday, wedding, anniversary or honeymoon location.


Speak to someone who's been !

Telephone : ( 0113 ) 2773 663

Reservations and Enquiries



General Info
About Us
Disclaimer
What They Say


Twin Centre holidays Safari South Africa




Shopping in Dubai
a few nights stop-over


Kids Fun and activities
something for everyone they
just love it !





FREE Watersports At most of our resorts in Mauritius





Diving Coral Reefs, shipwrecks and fantastic marine life species