Cruising

" Experience the difference "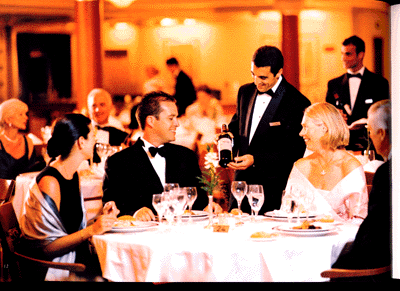 Quality in every department is the 'hallmark' of a Silversea's Cruise.
Nothing is left to chance and every detail is covered and checked several times to make absolutely certain that every guest enjoys a wonderful holiday and cruise experience.

Silversea's service is simply the world's best. It begins the moment you step aboard with a a warm welcome and a flute of chilled Moet & Chandon champagne. Throughout your voyage, you'll be pampered with caring, personalised service. Our staff prides itself in anticipating your needs yet knowing when to respect your privacy. Sailing on a Silversea's intimate cruiseship is like visiting a friends home, you're greeted by name and your personal preferences are remembered. "We obsess over the details so you needn't have a care in the world" - says the Captain.
Another way you are made to feel at home is the unmatched all-inclusive fares. Silversea's take care of virtually every detail. All beverages, including an extensive list of specially selected fine wines, spirits and Moet & Chandon champagne are complimentary throughout the ship. All onboard services is graciously extended. No gratuities are expected.

Your return airfare with transfers and porterage and a restful night in a deluxe hotel before departure (where applicable) are all included. " We even treat you to a unique complimentary shoreside event, the Silversea Experience, on selected voyages " - say an official.
" It's often the little things that matter the most "
So ! Please contact us for further details etc. Tel : (0113 ) 2773 663
All-inclusive