Separated from the outside world by a long tree-lined drive, L'Archipel is a secluded hotel on gorgeous Praslin - Seychelles. Visitors come here to get away from it all. a sort of a hideaway, to enjoy gourmet dining, attentive service and stunning views across Cote d'Or Bay. The ideal choice for couples and honeymooners. Praslin's major sites are well within easy reach; if you can tear yourself away.

Mauritian Hospitality, with a Gallic Twist - Famed for unobtrusive, yet attentive hospitality, the staff of L'Archipel have honed their skills in both Mauritius and the South of France - including the Chef who has trained in a renowned French kitchen. His gourmet dishes include Creole favourites and freshly caught seafood's; the red snapper and the chob are particularly delicious.

Pre-dinner drinks are equally impressive. The barman is currently taking part in a competition to discover Praslin's best cocktails and his concoctions (innovations) are superb.

Daytime Pursuits - After a relaxing breakfast on your terrace, the rest of the day stretches out before you. Do you spend it lying by the infinity pool, swimming in the tranquil waters of L'Archipel's private beach or enjoying a complimentary snorkelling trip to St Pierre Island ? - the decision is yours !.

Alternatively work out at the gym, learn to scuba-dive or de-stress with a massage. Want to make folks back home green with envy ? send them an e-mail from the internet room.

Cottage Suites - Surrounded by coconut palms, flowers and cassurina trees, L'Archipel's colonial-style accommodation is in quaint rooms, each named after a local island.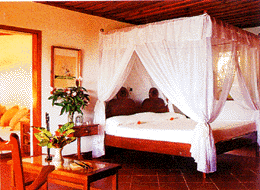 With polished wooden ceilings, colonial style furniture and freshly arranged flowers, the cool, calm interiors exude elegance. Central to each suite is a raised
king-sized bed, swathed in mosquito netting and surrounded by cool tiled floors. The large furnished verandah has breathtaking views across the bay towards Curieuse Island.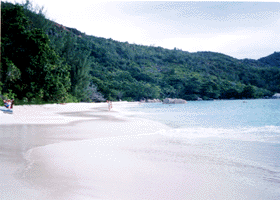 Praslin - Just one of the many fine, unspoiled beaches

L'Archipel, Praslin, is the typical Robinson Crusoe island, lush in natural vegetation with stunning white powdery sandy beaches against which the calm clear waters of the Indian Ocean lap-up against during the course of the day. Sometimes words can not explain sufficiently, the beauty of a place, one just has to be there. This is one of those occasions.

Our Opinion
This is such a hideaway location, a Robinson Crusoe castaway Island, but with luxurious surroundings, accommodation and with meals that Robinson Crusoe could only have dreamt of,
ideal for couples, weddings, honeymoon, romantic getaway, or those just wanting a relaxing beach holiday and to be at one with nature.