Seychelles Resorts




Championship Golf Courses - visitors most welcome



Seychelles
Fregate Island - Seychelles

Romance and the Ultimate in Barefoot Luxury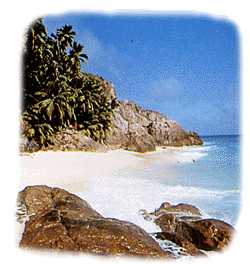 Rooms Accommodation -14 sea facing villas, 2 garden-facing villas. (best suited for families with children).

Location - Fregate Island is 20 minutes by helicopter from Mahe.


Meal Plan - Full board, Alcoholic drinks payable locally.

Facilities - 2 Restaurants, bar, swimming pool, gym, golf carts,
tennis courts. Water-sports including snorkelling, windsurfing and hobiecat sailing. Scuba-diving and fishing available at an addition cost paid locally.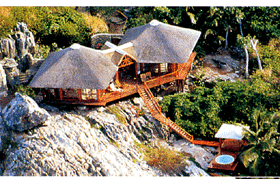 Luxury villa with steps leading to own private whirpool bath

Approaching by helicopter, your first view of Fregate takes your breath away. A tiny emerald isle floating in sparkling seas and encircled by a coral reef; it's that island paradise you've always dreamed of. Romance is in the air, as one immediately falls in love with this beautiful place on earth. Up close it's even lovelier. A beach for every day of the week, a fragile forest ecosystem and the ultimate privacy
of your villa make
Fregate's island fantasy your reality.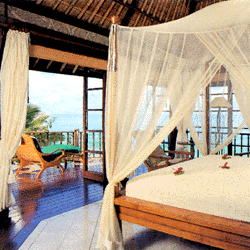 Villa Bedroom, with superb views

Hilltop Idylls - Fregate has 16 stunning thatched villas, possibly the Seychelles, best accommodation. Elegant Asian-styled pavilions, 14 are sea-facing, whilst two are in private gardens and perfect for families. Interiors boast Balinese teak daybeds. The silk furnishings and the mahogany four-poster beds draped with mosquito netting.

Spacious open-air foyer opens onto a grand living room and large bedroom; all with glass walls which slide back to allow the outdoors in. Villas have two bathrooms, outdoor showers, furnished verandahs and superb view, steps lead to a deck housing an outdoor daybed and whirlpool bath with romance is in the air.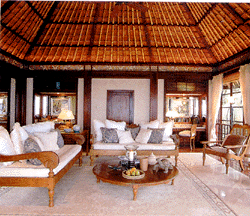 Villa Lounge

Natural diversions - Dinghy sailing, windsurfing, fishing and snorkelling are all complimentary for guests. Learn-to-dive scuba courses and 'Bubble maker' dive courses for children aged 8 - 11 years are available at extra cost. Nature trails wind through the forested interior, offering further glimpses of the resident birds and wildlife. For many however, the lure and romance of the beach is stronger. Fresh towels await you there when you succumb; as does a waiter, ready to take your order.

Home-grown Cuisine - Fregate's garden, plantation and surrounding ocean provide the raw ingredients for gourmet meals; the chef will even prepare fishermen's catch of the day. International dishes are served at Fregate House; Pirates Bar serves light lunches, snacks and tasty fresh fruit punch; whilst Plantation House creates Creole specialties. Alternatively wine and dine enjoy the romance, of your own private villa.

Our Opinion
The feeling of romance is present throughout this tiny island, it's a favourite with couples and honeymooners alike, some now returning bringing their own children with them.

Speak to someone who's been !

Telephone : ( 0113 ) 2773 663

Reservations and Enquiries



General Info
About Us
Disclaimer
What They Say


Twin Centre holidays Safari South Africa




Shopping in Dubai
a few nights stop-over


Kids Fun and activities
something for everyone they
just love it !





FREE Watersports At most of our resorts in Mauritius





Diving Coral Reefs, shipwrecks and fantastic marine life species