Seychelles Resorts




Championship Golf Courses - visitors most welcome





Cousine Island - Seychelles
nature photography, bird watching, beach holiday
Cousine offers exclusivity for up to just 10 people.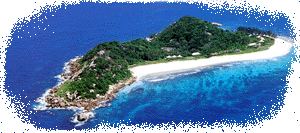 Cousine Island - Seychelles
Rooms - Accommodation, 4 air-conditioned cottages

Meal Plan - full board, including soft drinks.

Children - Over 15 welcome at Cousine.

Groups - can book the whole island.

Transfer Time : Cousine Island is 15 mins helicopter ride from Mahe.

Facilities - Restaurant, Bar, Swimming pool, Library, Nature Trails, Scuba-diving, Bird watching, and fishing trips can be arranged by the Manager.
Cousine Island is the Seychelles smallest granite island, 10 lucky guests (yes! only 10), share Cousine's beaches and forest with exotic birds and wildlife.

Bird watching is an attraction here at this privately owned nature reserve is a world renowned conservation project and as such, provides a safe haven for endangered species like Magpie Robins, as well as Fairy Terns, Green Hawksbill Turtles. Lacking natural predators, Cousine's fearless residents allow you to view them from close quarters.

Luxury and Privacy - Nature photography will appeal, as to protect the environment, development has been kept to an absolute minimum; however guests still enjoy 5 Star luxury in the four elegant cottages and main Pavilion. Your spacious villa features a separate lounge, dining room, dressing room, kitchenette and bathroom with Jacuzzi. Front and rear patios offer a choice of forest or sea views.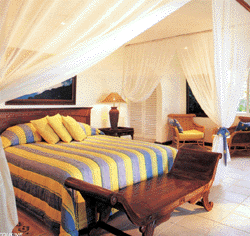 Luxurious Villa Accommodation

Activities - Apart from the nature trails and the bird watching, other activities are available to keep other family members happy too such as Snorkelling and diving and fishing trips can be arranged - so can an exhilarating helicopter sightseeing excursion. After Creole dinner Cousine's nightlife awaits: turtle watching and star gazing, accompanied by the gentle lapping of the waves against the shore.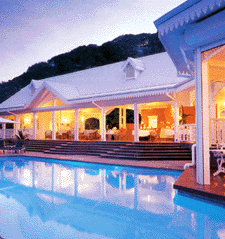 Swimming Pool - just as the sun goes down

Between September and January it is customary for the hawkshill turtles to come ashore and lay their eggs and most guests staying near this time and spending 3-4 days should be able to experience this truly wonderful sight.

The island has dramatic land and seascapes and the eastern coast coast is fringed with a dazzling white, soft sandy beach, almost a kilometre long.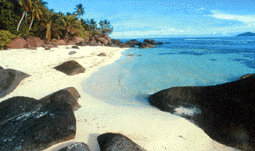 Cousine offers long beaches or just small coves

Our Opinion
Cousine Island in the Seychelles, will appeal to anyone who is a nature lover at heart. Guests are fortunate to have this 'private island' with just a handful of like-minded visitors, that soon become friends.
This is a beautiful small island that also just happens to be a
nature reserve,
with luxurious accommodation.





Speak to someone who's been !

Telephone : ( 0113 ) 2773 663

Reservations and Enquiries



General Info
About Us
Disclaimer
What They Say


Twin Centre holidays Safari South Africa




Shopping in Dubai
a few nights stop-over


Kids Fun and activities
something for everyone they
just love it !





FREE Watersports At most of our resorts in Mauritius





Diving Coral Reefs, shipwrecks and fantastic marine life species