No shoes, no keys, no phones - no worries. Leave the outside world behind on this tranquil private island, accessible only by light aircraft and just a 30 minutes flight from Mahe. A small coral ' dot ' in the Indian Ocean, Denis is swathed in tropical vegetation and ringed by
pristine beaches.

Denis - is a privately owned coral island and the perfect location for those seeking true escapism, totally relaxing and tranquility. Denis Island is approximately 375 acres and barely rises a few feet above sea level and is fringed by coconut palms, brilliant white sand and coral reefs, it is a great place to stroll along marked trails and safely discover parts of the island on foot. and is particularly lush for a coral island.In the shade of the casuarina and coconut palms, Denis Island Resort is the epitomy of
barefoot luxury.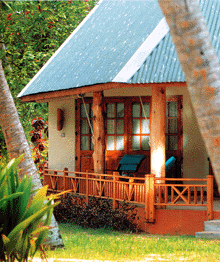 Your Cottage Accommodation

Just 25 individual and very spacious cottages, some of which are close to the beach, have been furnished and decorated in the the natural creole style. Each cottage is well equipped and the luxurious bathrooms also have an additional outdoor shower in a small walled courtyard. The cottages are discretely positioned so that the wide verandah is not overlooked by your neighbour.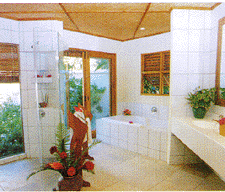 Spacious Bathroom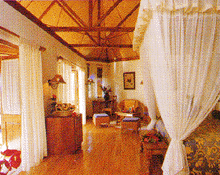 Cottage style Bedroom

Seychelles and Denis Island in particular, are renowned for their culinary delights, with sumptuous buffets for breakfast and lunch plus an excellent
menu choice or creole buffet for dinner. Occasional beach barbecues are also organised.

The Island itself is located on the edge of the Seychelles bank which plunges 2000 metres into the deep abyss of the gorgeous turquoise coloured Indian Ocean.

Originally a pirates lair, Denis' secret treasure hoards are still to be discovered. The Island's real riches, however are its natural delights: giant tortoises, rare bird species and colourful marine life. Few places in the world offer richer rewards underwater and Denis Island is a mecca for both sports fishermen and scuba-divers.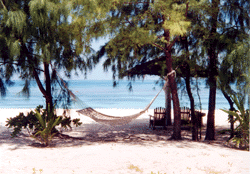 Just one of the many beaches

A small professional dive centre is affiliated to the Denis Island Resort and provides a range of dive excursions and courses for beginners & advanced divers alike. Enthusiasts flock to the waters of Denis for the resorts abundance of game fishing, excellent bone fishing and runs of bottom fishing trips. Sailing, windsurfing, canoeing, are available and snorkelling trips can be arranged. To ensure optimum enjoyment bring your own fishing tackle or
diving mask.

Meal times are announced with the sound of a gong. Enjoy breakfast of tropical fruit and freshly baked pastries; buffet lunches inspired by the catch of the day; and French or Creole gourmet dinners. Weekly dancing provides evening entertainment, as do the tall fishermen's tales exchanged in the bar.

For landlubbers there is a tennis court, billiards, table tennis, and a selection of board games.

The warm and friendly management at Denis Island Seychelles puts a
' no pressure on guests, just a genuine concern
for their well being ' and to have a great time.