As a Romantic getaway, North Island is tucked away behind a tree-line on Anse d'est beach, North Island is the Seychelles' newest luxury hide-away,. Here five-star standards blend with ecological philosophy and whilst paying guests enjoy the ultimate in privacy and barefoot elegance, the environmental projects ensure that the island's indigenous flora and fauna are equally well cared for.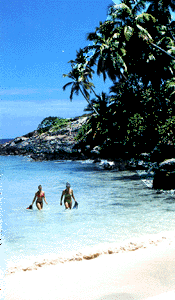 Could be mistaken as a 'clip' from a 'James Bond' film.

Secluded Sanctuary, that's another way that best describes North Island Seychelles, as huge villas offer enormous space to spread out, 450 sq metres to be exact. Built with local stone wood, and thatching - soothing interiors are decorated with natural tones and elegant touches like tropical ceiling fans nd marble Balinese baths.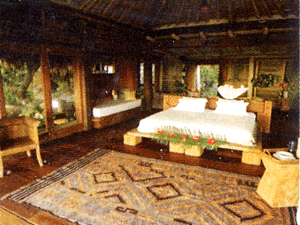 Quality villas of some 450 sq metres in area
There are 11 villas in total - nine on the shoreline and two on the granite hill at the north end of the beach. Villa Royale and Villa North Island are surrounded by Takamaka trees and have incredible views across the island and Lou to sesa. Interiors boast a Master bedroom, en suite bathroom with indoor and outdoor showers, dressing room, lounge and kitchenette, A second bedroom is suitable for children. Outside is a private pool, sun deck and 'sala' (an African-style daybed).

Natural elegance to this romantic getaway, is the Island Piazza and Indian Almond Tree and is the heart and soul of North Island. Softened driftwood furnishings and Zen-like water features create a relaxing ambience in the pool, library, bar and restaurant areas. Equally gorgeous is the gym and wellness centre, situated on the mountain to the North of the island.

Explore your surroundings, make time to discover North Island's natural delights. Enjoy the many activities such as scuba-diving, kayaking, and snorkelling, these are just a few of the watery diversions available - with excellent marine life visible just off shore. Inland exploration is easy as each villa comes equipped with an electric 4x4 'Island Buggie' and two mountain bikes.
Your romantic getaway can be further extended by the taking of day trips to neighbouring Silhouette and other nearby islands, arranged by the hotel management.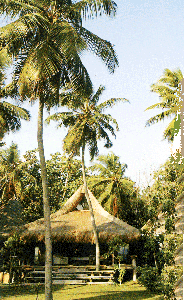 Secluded Sanctuaries

Our Opinion
Secluded island, this is the perfect setting,
for a perfect romantic getaway and honeymoon !