Silver Shadow and Silver Whisper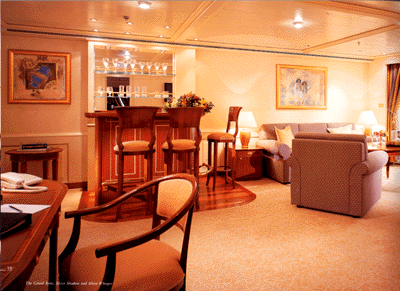 On your Cruise and Stay
The Grand Suite embodies the adage: ' it's not where you go, it's how you get there !'.

An elegant setting for intimate parties - which your Concierge will gladly arrange - the Grand Suite is more like a luxury penthouse.

Step in from one of the two teak verandahs ( there are three on the Silver Wind and Silver Cloud )
and into an entertainment-laden living room others would love to have in their own home. The spacious bedrooms feature queen-sized beds which may be converted into two twin size, television with satellite reception, and videocassette players are connected to elegant marble bathrooms, including one with a full-size whirlpool bath.

For more details : Tel ( 0113 ) 2773 663