Seychelles Resorts




Championship Golf Courses - visitors most welcome




Island Hopping - Seychelles

The ideal way to see more of the Seychelles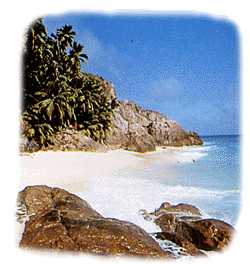 The Seychelles being a cluster of small islands, each with it's own characteristics, it seems a shame to be in the area and not go and visit the other neighbouring islands.

We understand the difficulty facing you - which ones to choose ? ..we have a variety of itineraries made popular by our clients, below are just a few examples ...

(click) Sainte Anne with Denis Island - Sainte Anne is the only resort on this private island - offering you a pure island escapism. Perfect luxury and tranquility on the one hand, whilst just a swift helicopter or boat ride from neighbouring Mahe, with it's lively markets and bustling atmosphere. Move on to Denis - miles away from anywhere to escape completely from the hustle and bustle of everyday life.
Day 1: Monday - Depart from London Heathrow on British Airways, overnight flight to Mahe.

Day 2 : Tuesday - Arrive in Mahe, travel by road to the jetty for your onward boat transfer to Sainte Anne Resort. Seven nights' Half Board in Villa Province.

Day 9 :Tuesday - Morning transfer back to Mahe airport for the flight connection on to Denis Island. Seven nights' full board in a garden Cottage.

Day 16 : - Tuesday - Today you return to Mahe airport, for your overnight British Airways flight to Heathrow.
Day 17 : - Wednesday - Arrive Heathrow.
Alternatively
(click) Anonyme + Alphonse + Denis + Fregate
Day 1: - Sunday, Depart London on Air Seychelles.

Day 2 : - Monday, Arrive Mahe and transfer by road and boat to the island of Anonyme for a stay of 2 nights.

Day 4: - Wednesday, morning flight to Alphonse., stay 3 nights at Alphonse Island Resort.

Day 7: - Saturday, midday return flight to Mahe. private helicopter flight to Denis island, stay 3 nights at Denis Island Resort.

Day 10: - Tuesday, Private helicopter to Fregate Island to stay 5 nights.

Day 15 : - Sunday, Private helicopter to Mahe for morning departure of Air Seychelles to London, arriving London in the evening.
Further Alternatives
Mahe + La Digue + Praslin
13 nights (14 days)
Friday to Thursday

Praslin + Bird + Silhouette + Mahe
14 nights (15 days)
Sunday to Sunday

Sainte Anne + Banyan Tree (Mahe) + Fregate
16 nights (17 days)



Alternatively ...you may have your own idea(s)
and wish to choose your own itinerary, that's absolutely
fine, we can tailor make your holiday to suit your particular
requirements, subject to availability .


Speak to someone who's been !

Telephone : ( 0113 ) 2773 663

Reservations and Enquiries



General Info
About Us
Disclaimer
What They Say


Twin Centre holidays Safari South Africa




Shopping in Dubai
a few nights stop-over


Kids Fun and activities
something for everyone they
just love it !





FREE Watersports At most of our resorts in Mauritius





Diving Coral Reefs, shipwrecks and fantastic marine life species