Mina A'Salam - Dubai

280 - Luxurious Guest Rooms (some 50 sq.mtrs.)
12 - Suites Royal
3 - Restaurants
Connecting Boardwalk to Jumeirah Beach Hotel - Burj Al Arab - and ....Wild Wadi Water Park
The Resort offers :-
Spa and Health Club
Treatment Rooms
Fully equipped gyms
Squash courts
Board Basis - Room and Breakfast
Location - 20km from Dubai centre, 20 minutes from airport.

"World Class Beach Resort"
"Mina A'Salam translates from Arabic into the 'Port of Peace'.
It's unique shape and omnipresent windtowers herald a step back in time - yet modern facilities and luxurious interiors provide the most discerning visitors a destination on unrivalled qualities."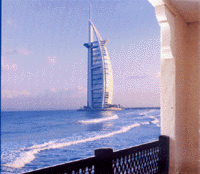 View overlooking Burj Al Arab


"Mina A'Slam, so named because this 300 room grand boutique hotel is built around a beach side lagoon adjoining 3 kilometres of canals and waterways from which water taxis transport the guests to all part of the resort. Mina A'Salam is the first phase of the Madinat Jumeirah Arabian Resort and will open in September 2003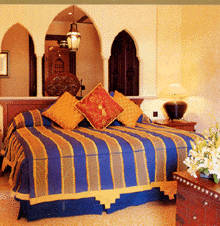 . It is A beautiful reconstruction of authentic UAE architectural styles, meticulously researched and designed to create a destination of magical qualities. All 288 rooms and the 12 Suites have balconies and enjoy sea-facing aspect. Sumptuously appointed and larger than average in size. Each guest room reflects the carefully applied Arabian theme - evident in the hand-crafted furniture ' natural materials and finest fabrics portraying regional inspired designs."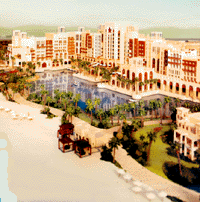 Mina A'Slam beach position


For - Watersports, Wild Wadi Water Park and excursions see
Jumeirah Beach Hotel for details.

Our opinion

The Mina A'Slam is sheer luxury, the water taxis being a
special attractive feature, the decor, the whole ambience of the place making it a really superb and most desirable holiday location - at the moment we can offer 'special attractive' rates, due mainly to this being it's
first year in operation
which makes this superior hotel an even bigger and
better bargain.
PS. Don't miss out - next year the prices will be totally different -
much higher
Speak To Someone Who's Been !
Telephone: ( 0113 ) 2773 663

Reservations
Enquiries