Mauritius Holiday, means trying to get the most out of the time available, doing the things that matter most to you.

But when one has a family (or a partner for that matter), that's easier said than done, as each member has their own needs, Mum may just want to relax and read a good book or take a Spa Treatment, Dad/Partner/Kids may want to be on the move, doing things,
can't sit still, you know the feeling.
That's fine Mauritius has it All !.

Nature and Adventure are yours to explore



Invigorate yourself. Go mountain climbing or explore nature through forests, plants or endemic flowers. Enjoy the spectacular beauty of waterfalls or live an exciting adventure by going down the waterfalls.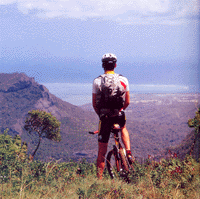 The breathtaking views on foot, on bike or kayak; or go trekking through fields, rivers and forests on all terrain quad bikes and discover the magnificent views of the south-eastern coastal regions. Adventure also means sharing the pleasures of hunting in the south-east where many stags, does and boars roam freely on grounds of 900 hectares, covered with tropical forests.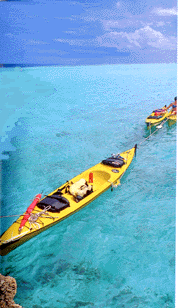 The main tour operators of the island have included in their package a 'nature' element which does not fail to bring to light a few spectacular sites.
Be it Yemaya Adventures with former world cycling champion, Patrick Haberland or Aqualonde and Espace Adventure, green Mauritius is now being discovered.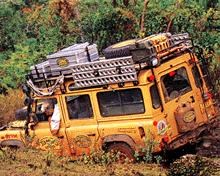 Photo: Espace Adventure
Comfort and relaxation at the hotel .
The Mauritian travel trade puts a whole range of sports and activities
at a visitors disposal, a dream come true.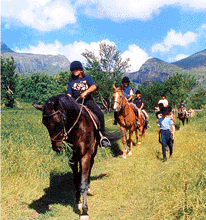 Water-skiing, parasailing, horse riding, to yoga and fitness sessions. Take care of your body and your spirit. Please note that qualified personnel will take care of you and
advise you accordingly.
Equipment ensuring your safety will be at your disposal.

Remember ! you're on holiday, so do as much or as little as you want, the choice is yours, but it would be a shame not to see what Mauritius has to offer if you can possibly drag yourself away from the gorgeous beaches, or the lush surroundings and facilities of your beach resort hotel. It's hard I know, but try to do so, even if its just the odd half day, you'll be glad you did so. 'PT'.
(Photos and content courtesy of Mauritius Tourism Promotion Authority)

Speak To Someone Who's Been !
Telephone: ( 0113 ) 2773 663