Hotels & Spa Resorts


Hotels Mauritius

Belle Mare Plg

5

LUX* Belle Mare

5

Canonnier Le

4

Coco Beach Le

3

Dinarobin

5

Hilton

5

Heritage Awali

5

LUX* Grand Gaube

5

Maritim

4

Merville Beach

3

Mauricia Le

4

Oberoi

5

Paradis

5

Paradise Cove

5

Prince Maurice

5

LUX* Le Morne

4

Le Meridien Ile Maurice

4

Royal Palm

5

Residence

5

Sands

4

Shandrani

5

Saint Geran

5

Sofitel

5

Sugar Beach

4

Touessrok Le

4

Trou Aux Biches

4

Victoria Le

4




There can be a huge difference in some of
the hotels, even though they may have the
same star ratings

Speak To Someone Who's Been !


Championship Golf Courses - visitors most welcome


Twin Centre holidays Safari South Africa

Shopping in Dubai
a few nights stop-over

Kids Fun and activities
something for everyone
they just love it !


FREE Watersports At most of our resorts in Mauritius



Diving Coral Reefs, shipwrecks and fantastic marine life species


Most hotels offer some sort of Kids Club to a greater or lesser degree, Beachcomber offer their 'Bob Marlin Club' and Sun International their
'Sun Kids Club'
the details of which are as follows ...

| | |
| --- | --- |
| | |


Bob Marlin Club - by Beachcomber

"Mauritius is one of the few luxury holiday destinations that welcomes children with true hospitality. The Beachcomber resorts strive to make you Mauritian holiday as relaxing and enjoyable as possible, and that includes the kids. The Bob Marlin Club provides ALL DAY ACTIVITIES that are supervised by experienced child minders, and it is not uncommon for children to maintain ties with Mauritius by correspondence with their 'nanny' ".

" Beachcomber have a Bob Marlin club at all resorts with suitable qualified staff to ensure a wonderful holiday for both parents and children. Please note that the Royal Palm Hotel only operates the Bob Marlin club during European school holidays ".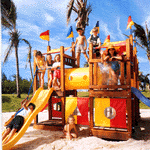 "There's such a great variety for children each day that choices are varied. Children have the freedom to partake in activities of particular interest while deciding to leave others out. If they prefer to do their own thing for any part of the day, there is no obligation to remain with the club for every activity. In this way, Beachcomber promises children with as much choice as parents as to the kind of holiday they want. Do they want to relax ?. Then try shell decorating,
or drawing competitions. Maybe they would like to try some exciting sports ? Then they can join us for water-polo, mini olympics on the beach, or have a supervised lesson of tennis or water-skiing. A weekly programme of activities is provided so that children and parents can devise a schedule, if necessary."

"In addition the Bob Marlin club has swings and slides and once a week may take the children on an interesting excursion"

"Activities are dependant upon hotel occupancy and number of children attending, activities at most hotels are divided into two groups generally split on 3-6 years and 7-12 years".

Opening times generally are..
0930 - 1800 / 1800 - 2100
Paradis : closes 2300 hours
Le Canonnier : closes 1630 hours
Please ask Paramount Travels' staff to confirm opening hours at time of booking if timings are conditional to you.
Footnote : "Of the clients that have had cause to use the Bob Marlin Miniclub - each have raved about how comprehensive and professional the service really is."
Kirstine - Paramount Travel
____________________________
Sun International - have their 'Sun Kids Club' at - Saint Geran,
Le Touessrock, Sugar Beach, Le Coco Beach, and La Pirogue,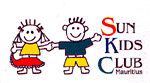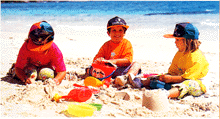 " 'Sun Kids Club' is free for all children from 2-11 years and provides world class
benefits including exciting, ultra cool and imaginative daily fun programmes, age-appropriate activities, facilities and amenities, twelve hours a day. Members have the opportunity to enjoy golf, tennis, windsurfing and swimming clinics as well as environmental excursions with a focus on educational enrichment throughout their stay. Dinner time provides a special event every evening for kid, with a selection of menus, buffets and barbeques to be enjoyed under the supervision of specially trained hostesses. Babysitters - available at an extra cost charge- are required for children of 2 & 3. @sungeneration.com offers free membership for 12-18 year olds who can enjoy sports events, excursions, outings and evenings specially designed for teenager ".




On a more personal note - I spent quite a bit of time with the 'Sun Kids Club'
and the kids really do have a great time, they have their own cooking area and facilities and on the occasion of my visit, they were tucking into Pizzas which they each in turn had had a hand in the making of - " very impressed with the level of care and enjoyment the kids were all having"
of all ages ..........
Alan - Paramount Travel.

Please contact us for resorts not mentioned herein and we'll gladly provide you with the 'up to the minute' information on Kids Club and their facilities

Speak To Someone Who's Been !
Telephone: ( 0113 ) 2773 663