Kirstine


Hotels & Spa Resorts


Hotels Mauritius

Belle Mare Plg

5

LUX* Belle Mare

5

Canonnier Le

4

Coco Beach Le

3

Dinarobin

5

Hilton

5

Heritage Awali

5

LUX* Grand Gaube

5

Maritim

4

Merville Beach

3

Mauricia Le

4

Oberoi

5

Paradis

5

Paradise Cove

5

Prince Maurice

5

LUX* Le Morne

4

Le Meridien Ile Maurice

4

Royal Palm

5

Residence

5

Sands

4

Shandrani

5

Saint Geran

5

Sofitel

5

Sugar Beach

4

Touessrok Le

4

Trou Aux Biches

4

Victoria Le

4




There can be a huge difference in some of
the hotels, even though they may have the
same star ratings

Speak To Someone Who's Been !


Championship Golf Courses - visitors most welcome


Twin Centre holidays Safari South Africa

Shopping in Dubai
a few nights stop-over

Kids Fun and activities
something for everyone
they just love it !


FREE Water sports at most of our resorts in Mauritius



Diving Coral Reefs, shipwrecks and fantastic marine life species


Your Financial Protection
ABTA No. 47168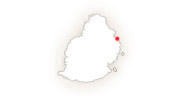 Saint Geran Mauritius

Accommodation
- Saint Geran Mauritius

117 Junior Suites, King-size beds (65m² incl. balcony/terrace)
31 Junior Suites, Queen-size beds (70m² incl. balcony/terrace)
14 Ocean Suites (119m² incl. balcony/terrace)
The Villa (622m² incl. balcony/terrace)
Le Saint Géran hotel, is one of the most prestigious hotels in Mauritius.

It nestles peacefully in its own private peninsula on the coast of Mauritius, fringed by over a mile of white sand beaches - a most idyllic Mauritius holiday location.

Terraced and balconied rooms all face out privately to the Indian Ocean.

Under the calm sway of countless coconut palms, 60 acres of grounds take in tropical gardens, poolside and ocean dining. With immaculate health and beauty treatments, golf, tennis and water sports, here is a place that always fulfils the promise of its timeless reputation.

Le Saint Géran is north facing and basks on the golden peninsula of Belle Mare on the island's northeast coast, surrounded by 60 acres of tropical gardens and thousands of swaying coconut trees.

Immortalised in Bernadin de Saint Pierre's novel 'Paul et Virginie', the peninsula is near the site of Le Saint Géran shipwreck.

One hour from the airport and 40 minutes from the capital Port Louis.
| | |
| --- | --- |
| Check this out . . . | . . should you have any questions or need to talk to someone - just give me a call - it's not a problem ! - ' Kirstine '! |
Accommodation
All suites feature a private terrace or balcony facing either the ocean or bay as well as a door opening onto a tropical garden. All guests have personalised 24-hour butler service.

117 Junior Suites, King-size beds (65m² incl. balcony/terrace)
Junior Suites, Queen-size beds (70m² incl. balcony/terrace)
Ocean Suites (119m² incl. balcony/terrace)
The Villa (622m² incl. balcony/terrace)

Maximum Occupancy
Junior and Ocean Suites - 2 extra children (up to 12 years) or 1 extra adult.
The Villa - maximum of 6 persons.
Junior Suites Dutch and French colonial influences with European comfort and style characterise the Junior Suites.

From the terrace, the view extends over the contrasting white sands and deep blue of the sea and the lagoon, while the interior, dominated by a King-size bed or two Queen-size beds, is both intimate and romantic. The dressing room provides
ample space to store belongings, while the bathroom includes a dual vanity unit, private WC, a roomy shower, large bath and special lighting.

Ocean Suites
Each spacious Ocean Suite has a separate roomy lounge, private dining room and two secluded terraces lead off the sumptuous master bedroom.
Inside, plush upholstered sofas offer comfortable seating, while the draped curtains and sliding shutters frame the grand bay windows.

Many Ocean Suites are connected to a Junior Suite, making it an excellent choice for families.

The Villa - Saint Geran
The Villa is a classical island home with clear views of the Indian Ocean over a private swimming pool and spacious terrace. The master bedroom has a magnificent four-poster bed and the second bedroom features two Queen-size beds.

Each of the two bathrooms have shower and Jacuzzi. A fully-?tted kitchen and spacious living/dining room equipped with premium quality china, crystal and silverware, are ideal for entertaining a small group or a private romantic dinner.

Personal chef and waiting staff are at your disposal whenever required. The
Villa's own butler is on duty 24-hours a day.

All accommodation at the Le Saint Geran features air-conditioning and in-room multimedia entertainment systems, satellite flat screen television, DVD/CD player, Internet/ADSL, hair dryer, mini bar, Nespresso machine, 24-hour room service, safe and in-room business services (multi-adaptor, fax/computer hook-up, modem phone-jack and three-phone, two-line communication system), iPod docking station and Wi-Fi access.

Restaurants and bars
At One&Only Le Saint Géran, dining is an experience of the best of the world and the pick of Mauritius.

La Terrasse Restaurant
Set around the pool, overlooking the Indian Ocean, offering a variety of local and
international specialities.

An extensive breakfast buffet is available; lunch includes a selection
of light meals, fresh salads, vegetarian and organic dishes. Dinner includes table d'hôte menus and buffets. An extensive wine list and cigar selection is also available.

Le Saint Géran - Mauritius is renowned for its entertainment.
Every evening, a band performs live during dinner from 9.30pm and for dancing till late.

Rasoi by Vineet Restaurant
Tropical waterside restaurant featuring the acclaimed cuisine of Michelin-starred chef Vineet Bhatia.

A menu of modern-Indian flavours is prepared in an exciting show kitchen and includes an innovative mix of trendy PizzaNaans, Naaninis, Romali Roti wraps and Indian Mezzeh. Some of Vineet's signature dishes include black spiced Tandoori chicken with a tomato and cashew nut chutney topped with pure gold leaf.

Home smoked Tandoori salmon with mustard and dill served with red onion and
cucumber yoghurt. Indian Tapas tasting menus with carefully paired wines. Open for lunch from 12:30 to 3:30pm and dinner from 7pm to 10pm (except on Sundays).
Booking required.

Spoon des Îles Restaurant by Alain Ducasse.
This indoor fashionable and re?ned gourmet restaurant, overlooking the secluded tropical gardens and water features, offers some of the finest and most innovative world cuisine to be found in the Southern Hemisphere.

The creation of renowned French chef Alain Ducasse, Spoon des Îles is an intimate restaurant with Rasoi by Vineet Restaurant - the most modern but also the most traditional methods of preparation and cooking 'on the spot'.

Spoon des Îles also offers a unique selection of the world's finest wines.
Open daily for dinner from 7pm to 1am (except on Mondays). Booking required.

Please note there is a dress code for all restaurants: gentlemen are requested to wear long trousers in the evening.

Beach Service - Le Saint Geran
From 7.30am to sundown daily; light snacks and beverages are served to you right on the beach.

Pool Bar
During the day, this perfectly positioned bar offers lunch and afternoon tea. It is the perfect rendez-vous point for an aperitif before dinner, and also a great place to savour a liqueur or a cocktail while watching entertainment after
dinner. Open daily from 9am until 1am.

Spoon des Îles Bar
In the open bar area, the selection of wine and champagne on display in the glass wine cave has been personally chosen by Alain Ducasse's trusted sommelier to match the refined atmosphere and unusual concept of the restaurant. Open daily
from 7pm to 1am (except on Mondays).

Rasoi Bar
Overlooking the lagoon, this quietly elegant yet relaxed bar captures the beauty and romance of its tropical island setting. A full drinks menu is available. Open from 9.30am to midnight.

Golf Club Bar
The Golf Club Bar is open from 8am to sundown daily for drinks, salads, light snacks and sandwiches in peaceful, lush and green surroundings.

Leisure facilities - Spa - Saint Geran Mauritius
A privileged place for the relaxation of mind and body.

A fully-equipped spa with highly qualified personnel, eight treatment rooms, comprehensive range of body and facial treatments, hydro jet, sauna, lap pool, spa boutique and health and fitness facilities.

The spa offers an holistic approach: complete treatment together with a
personalised sports programme and nutritional analysis, beauty and hair advice.
Open daily from 8.30am to 8pm.

Fitness Centre
Le Saint Geran fitness Centre attached to the spa offers the most cutting edge form of personal training available anywhere in the world.

Providing one-to-one training in the gym, stretching sessions, swimming and water exercise programmes, as well as mobilisation programmes for tennis and golf. Jogging partner in the grounds of the resort and outside also available. The gym equipment
can be used free of charge. Trainer's services for a nominal fee.
Open daily from 7am to 8pm.

Hairdressing Salon
Provides services and care of the highest standards in hair aesthetics for both men
and women.
Open daily from 10am to 8pm.

Bastien Gonzalez Chiropody, Pedicure and Manicure Centre
Bastien Gonzalez, internationally acclaimed French podiatrist, renowned for his Podiatry and Pedicure Clinics in Paris, Monaco, and London – has handpicked and personally trained a team of specialists offering manicures and pedicures.

His exclusive pedicure is a specific massage focusing on flexibility and skin conditioning.

Water Sports (complimentary)
Holidays in Mauritius are fun !
Unlimited water-skiing across the protected lagoon, Hobie Cats, kayaks, Laser sailing, pedal boats, windsurfing, aqua-gym sessions in the pool, glass-bottom and snorkelling boat trips.

Water Sports (non-complimentary)
Scuba diving (PADI and NAUI approved open water courses available), small game fishing, deep-sea fishing, banana and tube rides, kite surfing, catamaran sailing and cruises. Private courses with an instructor of the John Battleday Water-ski and Wakeboard Academy.

Land Sports
Golf on the 9-hole par 33 Gary Player designed golf course includes a One&Only Golf Academy. Expert Golf tuition is provided by the Academy's Pro for a nominal fee. Use of course
I think you will agree - the choice and selection of facilities at the Saint Geran Mauritius is oustanding - there is definitely something for everyone -
However, if you have a question or want to know more -
please contact us, we'll be pleased to discuss it with you.

Speak to Someone Who's Been ! - Tel: 0113 2773 663
Saint Geran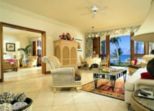 Ocean Suite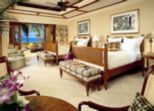 Villa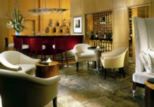 Spoon des Isles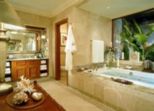 Villa Bathroom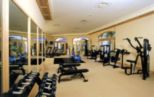 Fitness Centre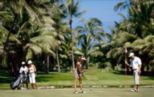 Golf - 9 hole