Accommodation :Interior design at the Sugar Beach - complements the plantation theme of the resort, while maintaining a contemporary feel. Real mahogany furniture and magnificent king-size beds harmonize well with the soft finishes in tones of pale green and beige.

The rooms are fitted with blackout curtains and pastel sheers drawn behind white louvered panels on each side of the front windows.
The sheers maintain privacy while allowing filtered light to enter during the day.

Standard rooms have bath-with-shower and toilet. Superior rooms have separate bath, stand-up rain shower cubicle, separate toilet and a larger vanity. All rooms have their own private patio or balcony complete with easy chair, Ottoman and day bed.

All rooms are provided with fully stocked minibars, luggage racks, tea and coffee making facilities and LCD flat-screen TVs. Satellite television provides international news, sports and entertainment, as well as kids' channels in English, French, German and Italian.
Standard Rooms
Additional Facilities - Rooms also have international direct-dial telephones, Wi-Fi internet access (charged extra), electronic room safes, hairdryers, individually controlled air-conditioning, electrical shaver points (110/220 volts) and desks with a full range of international electrical plug sockets. Irons and ironing boards are available on request.

Check-in after 2pm
(14.00h). Check-out by midday (12.00h).
No. of Rooms Area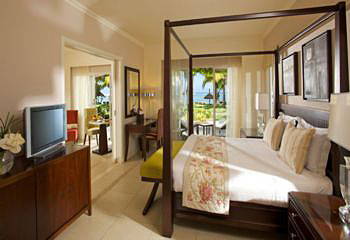 Suite Bedrooms
Both standard and superior rooms have either twin or king-sized beds and can accommodate two adults and an extra bed for either a third adult or child sharing.
superior rooms and standard rooms are furnished with two queen-size beds that can accommodate two adults and two children under 12 sharing with parents, or two adults and a third person above 12 years old.

Cots are also available. A total of 23 connecting rooms are available in both room categories as well as in the suites.

There is also one standard room specially equipped for handicapped guests.

Please note that extra beds are not possible in the Villa Suites.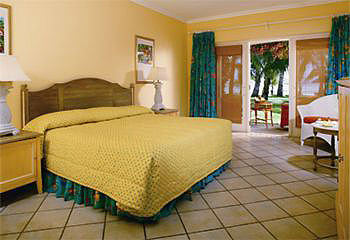 Beach Villa
Restaurants :
Mon Plaisir Restaurant (seats 350)
Live cooking buffet featuring a variety of themed buffet dinners. An outside dining deck can accommodate 100 persons.
Breakfast
7.30h to 10.30h. Full English and continental breakfast buffet.
Dinner 19.00h to 22.00h.
Tides Restaurant (seats 100)

Located at the beach front, this restaurant offers a World Sea Cuisine. The centrepiece is an elaborate crustacean and seafood counter that appears to float on illuminated ice. Here guests compose their own seafood platter from fresh shellfish, mussels, oysters and a variety of handmade Sushi and Sashimi.
The kitchen
is equipped with a specially designed fish room to ensure the highest quality during the handling and preparation of fish and seafood dishes. Lunch 12.30h to 15.00h. Dinner
19.00h to 22.00h

Citronella's Café (seats 120)
Oceanside Italian market-place restaurant offering light meals, baked wood-fired Pizza and salads at lunch time. Regional authentic Italian cuisine at dinner.
Lunch 12.30h to 15.00h. Closed Mondays.
Dinner 19.00 h to 22.00h. Closed Sundays.

Paul & Virginie Restaurant (seats 120)
On the beach of neighbouring resort La Pirogue, the 'à la carte' Paul & Virginie restaurant is warm and intimate. The romantic thatched dining pavilions overhang the 'infinity' pool against the dramatic backdrop of the Le Morne Mountain over the sea.
Lunch 12.30h to 14.30h daily.
For a selection of popular island cuisine, wood-fired pizzas, grilled, smoked or steamed fare, tossed salads and sandwiches.
Dinner Monday to Saturday from 19.30h to 22.00h
For more sophisticated fare, with select items such as scallops, oysters, mussels, giant prawns and lobster, around the restaurant's signature multi-choice concept (smoked to order, grilled or steamed).

The wine list includes a variety of South African and New World wines, with a focus on great value for money.

In-room dining
Room service is available 24 hours-a-day for continental breakfasts in the privacy of your patio or light meals and beverages throughout the day.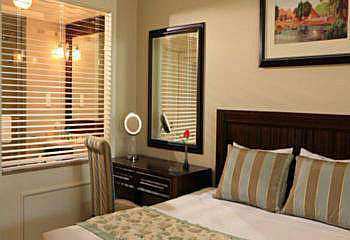 Superior Room
Bars
Tides Bar
Tides Bar offers pool side refreshments as well as a comprehensive list of international beverages specializing in local island cocktails made with the finest plantation rum produced on the island.

At lunch, a light poolside menu is served from the adjacent Tides Restaurant comprising of snacks, sandwiches, copious salads and local specialities.

Tides Bar is also the place for traditional five-o'clock tea, with its cakes,
pancakes and selection of fine teas.

As darkness descends, the fire pit is lit and the mood changes to a sophisticated night spot with live music and entertainment including local folklore and dancing to the resident DJ.
Open daily from 10.00h until late.

Mon Plaisir Bar
Located at the entrance to Mon Plaisir, this bar is inspired by typical French pavement cafés. It is the ideal meeting place for a quiet drink or pre-dinner aperitif before dining at Mon Plaisir.

After dinner enjoy a wide selection of old rums, malt whiskies and single barrel bourbons or try a cigar from our Havana selection.

The adjacent garden court area features an authentic craft market with live street entertainment in the evenings.
Opens from 4.00h each morning for guests on early departure for those out to catch the first Marlin of the day.

Sports Bar
Located at the tennis courts the bar offers refreshments for tennis players and sports enthusiasts. Meet there to watch international sport on a large flat screen TV. Open daily from 10.00h until late.

Citronella's Bar
Adjacent Citronella's Café, the bar serves aperitifs on an outdoor deck before both lunch and dinner. It is also available for refreshments for guests using the nearby boat house. Open daily from 10.00h until late.

Beach Trolley Bar
A beach cart provides refreshments and light snacks along the beach for guests to enjoy in the privacy of their own thatched parasols.
Open between 10.00h and 17.00h

Dress code
Long trousers and shirts with collars are requested for gentlemen in the evenings.

A world of inspirations in the hotel's bars and restaurants

Sports
No charge
Sugar Beach Mauritius is pleased to offer complimentary - Kayaks, laser sails, glass-bottom boat trips, snorkelling, unlimited waterskiing and windsurfing, fun boat, aqua gym classes (pool 2000m³), water polo, volley polo, basket polo, six floodlit tennis courts (equipment available; rackets free of charge, balls for a fee), aerobics, steps, stretching and yoga classes, badminton, water polo, bocciball, frisbee, jogging, mini football, table tennis and volleyball.

Chargeable
Scuba diving (PADI open-water courses available), big game fishing, parasailing, full day catamaran cruises, oxoon, horse riding, mountain biking.

Preferential access to Le Touessrok Golf Course. Designed by Bernhard Langer, this par-72 championship course is located on Ile aux Cerfs (discounted green fees applicable).

Also at preferential green fees, the new 18-hole par-72 championship Tamarina Golf Club is only a 15-minute drive from the resort.

The spa :
Pamper yourself with a host of beauty and body treatments provided by our team of professional Spa therapists. The Spa comprises both single and couples treatment rooms and also has a dedicated Shiatsu treatment area.

For the ultimate therapy try the deluxe Hammam treatments including an exotic black soap massage.

A fully equipped hairdressing salon for men and women is also located in the Spa area.

The gym
The Sugar Beach gym - comprising of 300m² of air-conditioned space, the gym offers a full range of Multimedia Cardio equipment, air controlled strength machines, body building and free weights.

The Martial Arts area caters for fans of Taebo, Kick boxing, Judo and Karate.

Group interactive spinning classes are provided with virtual landscape rides through some of the most exciting bike rides of the world.

Personal training for Vibro Gym and Pilates is also available at the Sugar Beach with daily yoga, stretching and aerobics are also offered both indoor and outdoor.

The pools
Main Pool
The 2000 m³ main pool and its surrounding decks offer fun and relaxation for all ages.
The Sugar Beach really does go out-of-its-way to cater for the 'kids'.

A special designed kids' area with walk-in beach edge is separated from the main pool by a series of stepping stones. There is also a relaxing bubble pool.

South Pool
The South pool is a quieter relaxing area in the South Village where you can enjoy a day in the sun with your favourite book.

Other facilities and services
Wi-Fi access with extra charge is available throughout the resort. Dedicated terminals with e-mail and internet access are provided in the Manor House lounge.

The Manor House also has a library.

Sugar Beach also offers business assistance, car hire desk, baby sitting, excursions, film processing service, florist, foreign exchange, laundry and dry cleaning, medical room with qualified nurse in attendance, doctor on call, photographic and video service, shoe cleaning, taxi service and transfers.

Most major credit cards are accepted.

Shopping
The Emporium on the ground floor of the main building stocks all the essentials you require for your beach holiday as well as an elegant selection of designer items, souvenirs, beach wear and designer clothing made in Mauritius - as mentioned on our on our 'home page' Mauritius is world renowned for it's fashions - especially 'swim-wear'.

The Sugar Beach also has a duty free jewellery shop located on the first floor and hair, nails and beauty products are available at the Spa.

Sun Kids Club
Sun Kids Club is free for all children from 2- 11 years and provides world-class attractions including exciting, ultra cool and imaginative daily fun programmes, age-appropriate activities, facilities and amenities, twelve hours a day.

Members of the Sugar Beach 'Sun Kids Club' can enjoy golf, tennis, windsurfing and swimming clinics as well as environmental excursions with a focus on educational enrichment throughout their stay.

Dinner time provides a special event every evening for kids, with a selection of menus, buffets and barbecues to be enjoyed under the supervision of specially trained hostess.
Babysitters – available at an extra charge – are required for children of 2 & 3 years.

Conferences & meetings
The well established and versatile conference centre (294 m²) is equipped with the most modern technology. Between 220 and 350 people can be accommo- dated in either one large hall or three smaller rooms. An ideal working environment in an exceptional setting.

Entertainment
Live music nightly at the Tides Bar features a variety of local talent as well as our popular Dixie Land Jazz Band. There are regular folklore shows presented around our fire pit on the beach adjacent to the Tides Bar.

The resident DJ will also entertain you at the Bar until the early hours with a selection of hottest hits and old favourites to suit the mood.

Sun card
On arrival at the Sugar Beach resort, each guest is handed a Sun Card, which entitles him or her to certain sports free of charge and to other specific advantages including reductions on certain activities, on excursions and on car rental, discounts at various shops at the resort and around the island and, finally, meal interchanges at La Pirogue and Le Coco Beach
(Sun Card's offers subject to conditions).

That's it ! - my brief synopsis on the Sugar Beach - my opinion is that it is a huge success with families and those wanting a more lively hotel resort - no question about it - the Sugar Beach has a lot to offer !