Les Touessrok
"Beautiful, sophisticated yet wonderfully informal"

A beach wedding favourite

200 - Rooms and Suites
Meal Plan - Half Board


"Situated on the East Coast Le Touessrock boasts of having the soothing site and sound of water from every advantage point as one wanders through the cool lace of timber and thatch, offering solitude in whitewash.The pool, the focal point of the resort, unravels like a ribbon from the depths of the lagoon, snaking between the islets of straw huts, the gently swaying palms and aromatic blossoms".

"Weddings in Mauritius - Les Touessrock ranks high amongst the favourites, especially as a beach wedding resort, Les Touessrok extends an open wedding invitation - visit us soon !"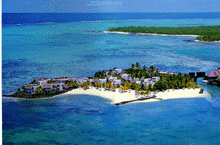 Aerial view

Accommodation

The rooms and suites follow a circular pattern around the island, the Junior Suites having custom made fabrics. lavish bathrooms and stunning views. The Royal Suite offering an opulence of immense proportions.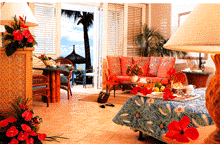 Junior Suite
All rooms have either beach or seaview and as one would expect all rooms are fully equipped with TV air-conditioning,
private balcony, etc. as standard. All Suites have a seaview.
Dining
4 restaurants and 2 bars on the main resort, 2 restaurants and 2 bars on ile Aux Cerfs, 1 restaurant and 1 bar on ilot Mangenie - 24 hour room service.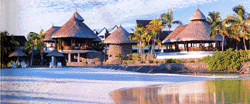 Beach fronting accommodation
Entertainment/Sports

Nightly entertainment - Sports are FREE with 2 swimming pools, 4 Floodlit tennis courts, Volleyball, Water-skiing, Paddle boats, Canoes, Windsurfers, Snorkeling, Glass bottom boat trips, Games room, complimentary water taxi to the iel of Aux Cerfs and the ilot of Manengie.

Children

Being a 'Sun International Resort'
There is a children's club for 4 - 11 year olds.
Please (click here for details)

Our Opinion
Ideal relaxing holiday location, with activities available
for those feeling a little more energetic at times.
As weddings Invitations go - Les Touessrock extends a warm invitation to all wedding couples and their guests.
oa


Speak To Someone Who's Been !
Telephone: ( 0113 ) 2773 663