Choose your location and then give me a call and discuss
any ideas or questions you may have your ideas ..

Tel: 0113 2773 663

Map of Mauritius
( click on the resort name on map below)


Where is Mauritius on the Map ?. . < more >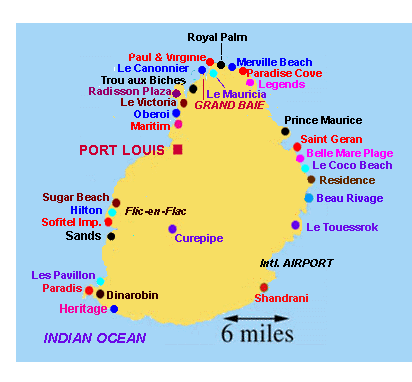 ( click on resort name )

When is the best time to go to Mauritius ?

Located just above the Tropic of Capricorn,
Mauritius boasts a subtropical climate making it
an all-year round destination.

The summer months, November to April provide coastal teperatures of up to 34 degrees Celsius. The cooler months May to October are still wonderfully warm with the average temperature of 24 degrees Celsius.

The temperature of the interior regions particularly the more central part of Mauritius at around 600 metres is usually around 5 degrees lower.

The most pleasant periods, in our opinion, are either April to June or September to November. (more)

Feel free to discuss your ideas with us,
the options are endless.